Printed in British Cactus and Succulent Journal 5:13 (1987)
Part 6. HAWORTHIA MACULATA (V. Poelln.) Bayer.
M. B. Bayer, National Botanic Gardens of South Africa, Karoo Gardens, Worcester.
Haworthia maculata (V. Poelln.) Bayer. Haworthia Handbook: 130 (1976);  New Haworthia Handbook: 43 (1982);  J. W. Pilbeam, Haworthia and Astroloba: 89 (1983).  H. schuldtiana var. maculata v. Poelin. in Feddes Repert. Spec. Nov. 49: 25 (1940).  Type: Cape; in the neighbourhood of Worcester, Swellendam, Bredasdorp and Caledon. Major H. Venter No. 6a. No specimen preserved.  Neotype: Cape- 3319 (Worcester): Worcester District, H. Venter No. 6a in G. G. Smith 3912 (NBG)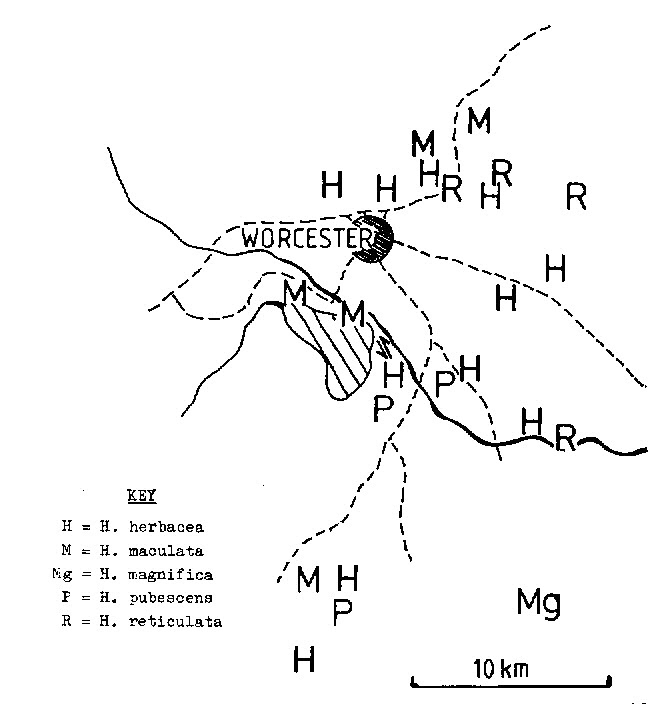 Rosette stemless, 30-70mm in diameter, up to 60 leaves.  Stem thick, white-fleshed, non-fibrous, 1/3 diameter of rosette, never elongate, slowly proliferous from base.  Roots thick, white-fleshed, non-fibrous.  Leaves erect, spreading, slightly incurved at tips, up to 60mm long, 12mm broad, 8mm thick, ovate-lanceolate acuminate, aristate with bristle up to 5mm long, seldom setiferous, green to grey-green, purplish- green in sun, lines distinct with pronounced small longitudinal transparent areas on upper surface, lower surface heavily mottled or with longitudinal markings, spots occasionally with small hairs, face slightly concave at base, convex-turgid towards upper 1/4, back convex, frequently with second keel or with double row of spines on keel, margins sub-acute, lightly spined, spines white, up to 0.5mm long to 1mm apart.  Perianth white, yellowish-green inside, nerves pinkish-brown outside, pinkish inside at tips, tube ascending curved, up to 16mm long, obclavate, bluntly triangular at base, 4.5mm across reducing to 3mm, segments free, regularly stellate, inner lower segments incurved along upper margin.  Buds biarcuate, bifid at tips.  Flowering Oct-Dec.