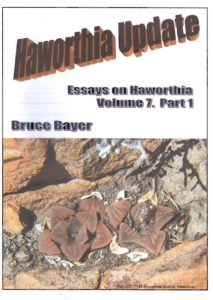 Haworthia Update Volume 7 is now available from Alsterworthia International. For details contact editor Harry Mays at hmays@freenetname.co.uk or by writing to
Harry Mays
Woodsleigh, Moss Lane, St Michaels on Wyre, Preston
PR3 0TY, United Kingdom
Seven chapters in four parts:
Chapter 1 – Haworthia retusa 'nigra' – Another grand finale
Chapter 2 – Further exploration in Haworthia. Further to finale
Chapter 3 – A field trip to the Potberg area
Chapter 4 – What is typical Haworthia mutica?
Chapter 5 – Still more Haworthia mutica and Haworthia mirabilis
Chapter 6 – Field trip to Van Reenes Crest and Niekerkshek
Chapter 7 – More on Haworthia mirabilis and H. mutica from east of Bredasdorp, and A rationalization of names in Haworthia, A list of species with new combinations and new synonyms by M.B. Bayer and J.C. Manning.
Bruce Bayer's Haworthia Update Essays on Haworthia Volume 7 is A4 size, printed on A3 paper, folded and stapled. Part 1. has 63 A4 pages, Part 2. 83, Part 3. 57 and Part 4. 48. The field work is profusely illustrated with plant photographs, maps and a pie chart. Part 1 has over 330 photos, Part 2 over 280, Part 3 over 330 and Part 4. over 160. Recommended retail price is £45.50 + p & p. It may be ordered from good book sellers.