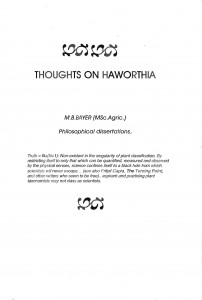 THOUGHTS ON HAWORTHIA
M.B.BAYER (MSc.Agric.)
A philosophical dissertation.
Truth = N+(N+1):  Non-existent in the singularity of plant classification.  (By restricting itself to only that which can be quantified, measured and observed by the physical senses, science confines itself to a black hole from which scientists will never escape.. (see also Fritjhof Capra, The Turning Point, and other writers who seem to be free)… aspirant and practising plant taxonomists do not seem to class even as scientists.
CONTENTS
Foreword
Introduction
Minus 1
Enigma   1. Another open letter.
Enigma   2. The real enigma in Haworthia.
Enigma   3. The haworthioid rocks of the Aspho Delay Sea
Enigma   4. The haworthioid rocks of the Aspho Della Sea
Enigma   5. Cabbages and kings.
Enigma   6. A change of title – Predictiveness in science.
Enigma   7. ICBN vs. Larry Leach and Col.C.L. Scott.
Enigma   8. Does the ruling body of the ICBN know what it has done
Enigma   9. Ditto 8.
Enigma  10. Ditto 9.
Enigma  11. Titles of talks mutate.
Enigma  12. N+(N+1) As the title of a presentation.
Addendum 1. Haworthia – where do we go from here?
Addendum 2. Notes of talk – Omaha June 1988.
Addendum 3. Gist of talks – USA June 1988.
Addendum 4. A paper on Oxalis.
Addendum 5. A letter to a prospective taxonomist.
Addendum 6. A review of "The World of Haworthias. Vol.1"
Addendum 7. A manuscript for the Journal Asklepios.